Hello ! Thank you for visiting Mileka Siberians. My name is Sally O' Connell and my dog family and I reside in sunny Gainesville Florida. I am a member of the Siberian Husky Club of America and the Siberian Husky Club of Tampa Bay I am a columnist for the Siberian Quarterly magazine and am a member of the Dog Writer's Association of America. I would like to invite you to visit with me for moment so that I may properly introduce myself and my dogs.
Mileka Siberians is named after 3 Siberian Huskies that have had a profound influence in my life. If you read further, perhaps you will understand why. The Siberians are MIsha, LEah, and AKela. Combining parts of their names produced Mileka Siberians.
Mileka Siberians strives to produce sound, healthy, happy Siberians conforming to the breed standard in type, working ability and temperament. Thus our dogs are tested by their ability to compete successfully in the show ring, obedience ring and their natural proclivity to work in harness. We have Champion/Obedience titled dogs that enjoy visiting nursing homes and are registered therapy dogs with project P.U.P. (Pets Uplifting People) of Florida. I am proud of my dogs accomplishments in the ring but perhaps what I am most proud of, however, is raising a Siberian Husky that is a pleasure with which to live.
All breeding stock at Mileka Siberians have had their hips certified by OFA (Orthopaedic Foundation for Animals) with either "Excellent" or "Good Ratings." In addition, prior to being bred, our dogs have had their eyes certified by a Diplomate of the American College of Veterinary Ophthalmologists as being free from any hereditary eye disease. Now, it is my pleasure to introduce you to the grand old man at Mileka Siberians, Demavand's Akela.

Akela and Sally: Akela is the great grandfather of many Mileka Siberians. A working sled dog, bred by Siberian historian and writer Mike Jennings, Akela retired to Florida in 1990, where he happily spends his days in the snowless climate. During his show career, Akela was handled by his breeder to win Reserve Winner's Dog at the 1988 Siberian Husky Club of America's National Specialty in Manchester New Hampshire. One of his daughter's was awarded Best of Opposite Sex as this same prestigious show. Akela is featured in the Siberian Husky Club of America's Breed Standard video, and in Outdoor Life Channel's dog series "The Siberian Husky." (Click here to see Akela's pedigree.)

photograph: © 1996 Allen Cheuvront

---
Sally and Champion Veleah Affectionately Yours, C.D., C.G.C., T.T. (Leah) Another charter member of the Mileka Siberian family is Akela's daughter, Leah, formally known as Ch. Veleah Affectionately Yours, C.D., C.G.C., T.T. (Click here to see Leah's pedigree).I remember showing Leah as a pup. It seemed like it took forever for her to grow into her lean and lanky body. In fact, Leah was almost three years old before she was awarded any championship points ! By that time she had completed her C.D. (Companion Dog) obedience title and had been a fine mother to her first litter. However, once she finally grew up there was no stopping here. Leah won 10 points including a 4 pt. major within 10 weeks. She finished her championship by being awarded a 5 pt. major over 32 other fine competitors at the Siberian Husky Specialty of Greater Atlanta all owner/handled. Leah is now known around here as "Mama Leah" as she has consistently proven herself in the whelping box. I only show Leah now on special occasions. In one such instance, she was awarded Best of Breed and Group II at an all Breed Dog Show her last time out. Leah is a member of Project P.U.P.'s therapy dog team.

---

The last charter member of Mileka Siberians is Misha, formally known as Mikhail's Mischief C.D.X., T.T. Misha has taught me more about training dogs in general, and Siberians specifically, than any other dog around here. Misha is the most, dominant and exasperating dog I have ever experienced ! Of course, I love him with all my heart. Misha is not a "show dog" as most people think of them. Besides having a snap tail, large ears, and improper movement, (he over-reaches) Misha is afflicted with bi-lateral juvenile cataracts.

Juvenile cataracts is a serious problem in Siberian Huskies and is inherited. It is evidenced by an opacity in the lens of the eye of the dog. In Misha's case you can actually see the cloudiness. Misha has been neutered but it sure didn't calm him down. Misha is the featured character of many of my short stories that appear in "Shenanigan's", my regular column in the Siberian Quarterly magazine. And yes, if Misha is in the story, the hilarious incident described therein is actually true! Despite all the above, to his credit, Misha completed his C.D. title in only 5 shows and his C.D.X. title (Companion Dog Excellent) in 8 tries. Like Leah, he is a member of Project P.U.P. We are still trying, albeit unsuccessfully , for that elusive futility, uh, Utility Dog (U.D.) title.
---

"Mama Leah's" kids:

Ch. Mileka U Oughta B N Pictures "Kitten" (Click here to see Kitten's pedigree)
Just like her mom, Kitten won Winner's Bitch for a nice major at a Specialty. Kitten is my lead dog on my team. (Yes, you can run dogs in harness even in Florida !) (Click here to see Kitten leading the team on one winter run )
And now Kitten is a Mama as well! On March 11, 1998 Kitten delivered 5 beautiful puppies sired by Cadohi's Red Sky of Veleah, "Sky". Sky was bred by Doug and Carol Himes of Cadohi Siberians and is owned by my friend Vel Leahy. Kitten had 4 males and a female) (Click here to see picture of Kitten and her pups)(Click here to see puppy's pedigree).

BIS, BISS Brazilian Ch. Veleah's Ensign of Mileka, "Ensign" (co-bred w/ H.L. Leahy)
In 1998, Ensign was named the number one imported Siberian Husky in Brazil by winning Best in Specialty Show at the Siberian Husky Specialty in Sao Paulo Brazil where he lives with his owner.

Veleah's Reveille of Mileka, C.G.C. "Bucky" (co-bred w/ H.L. Leahy)
(Click here to see Bucky's pedigree).
Bucky earned a leg towards her C.D. obedience title on her first try (Click here to see Bucky sailing over the high jump with a dumbbell)
and has won Best of Breed from the classes multiple times.

---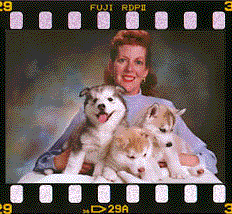 Veleah's Cadence of Mileka, "Cadence" (co-bred w/ H.L. Leahy)
Bucky's litter mate



Mileka Fire Dance At Sunset, "Sunny"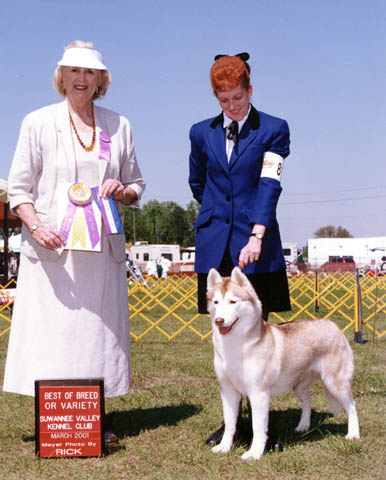 Little Sunnybuns has only been showed 4 times but has won Best in Sweeps at one Specialty and the Bred-by Exhibitor class on to Reserve Winner's Bitch at another. Sunny will be shown more as she matures.
---
---
Call or e-mail us for more information at:
Voice: 352.378.9383
oconnells@vetmed.ufl.edu
---
All photographs and text are © 1994-1998 Sally O'Connell except as noted
Please send us a quick comment by email


Keywords: Gainesville Florida siberian husky breeder show dog AKC Mileka obedience training mushing
---
Last updated: May 10, 1998 by Allen Cheuvront